January 1 was the date of the contest to end, but have to change the date because I have no time for finishing prices in the nearest time D8 SO much came suddenly in the way like too much school work :C And because of that, I have some commissions and other owed art I must get done with after that. So the deadline is changed to 29 May! Do that sound good or if it should be some bit into June? For me it doesn't matter. After this, I will only be able to extend it once more if needed and then no more. Extended twice already but because of personal problems tough. o3o So if you still wanna join, you still have time! C: and might send out a reminder at times ~
Thank you everyone who have entered so far and hope you are alright with the extended deadline ~ Please take a look on all the amazing entries made so far at the bottom at the journal! C: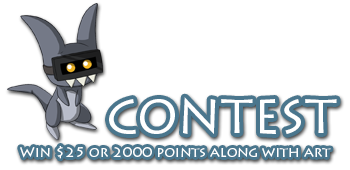 Decided to hold a contest and it will be about to draw my digimon oc's C:
Please spread info about my contest, so would be glad if you +fav the journal! C: And please comment if you join C:
Prizes
First place:

2000 points or $25

Artwork of your oc digimon digivolution line, Fresh to Mega OR up to 6 other digimon characters of yours OR Pokemon team of 6

Artwork of your favorite digimon/pokemon
2nd place:

300 points

Artwork of your oc digimon digivolution line, Fresh to Champion OR up to 3 other digimon characters of yours OR Pokemon team of 3

Artwork of your favorite digimon/pokemon
3rd place:

80 points

Artwork of your oc digimon, Fresh to Rookie OR 2 pokemon
4 Runner-ups will get art of their rookie digimon.
If you wanna enter but have no digimon character, I can also draw pokemon (like your team) and dragons/creatures. I will not draw humans.
That's all the points I have, and feel free to donate some points that will be added to the 2nd place and later 3rd place if I get more C:
When you are done with your entry, please note me or send a link in only this journal!
________________________________________________________________________________
Rules
What I accept:
-Digital art
-Traditional art
-Animation
-Crafts
-Pixel work
Yeah as long as I can see the characters, so no written stories or anything
What I don'taccept:
-Sexual themes
-Gore
-Written stuff
-Photomanipulation
How many entries?
- As many entries you wish to enter with
Can I add my digimon character?
- Yes you can
Character limit?
- Draw as many as you want C: No limit
DEADLINE: May 29, 2013
________________________________________________________________________________
Characters
Now for the characters that you can choose to draw are Therzimon and/or Coatmon and/or Jerboamon. You can also draw their evolutions if you want to.
I've never revealed their personalities before, and they might become a help for those who draw them, so I recommend reading the info.
Therzimon is my main character and here is some personality info:
A friendly, geeky, yet bit of a prankster virus digimon, curious to explore new environments, yet unsure to go to far. He's kind but can be a bit mischievous. He does pranks, steals food, and likes to scare digimon just for fun. Therzimon wasn't always like that, but the data and vaccine digimons cold behavior towards him from the beginning caused it, blaming him that he will always do bad stuff because he's a virus type, and is a weird looking mummy for that matter. He lives in Tropical Jungle (DW1 game reference) and been there since Fresh stage. Later during the story he meets Coatmon and Jerboamon, that becomes his best friends.   
Coatmon is my secondary main character and here is some personality info:
A bit of a mysterious looking digimon, comming from Overdell, home of many virus digimon (DW1 reference). Just as Therzimon he's a virus digimon and looked down on, so he stayed since Fresh form in Overdell till he met Therzimon. He talks, but is the most quiet one and also the quiet genius. Coatmon is terribly afraid of heights, a total opposite of Therzimon. Many sees him as a creepy digimon, the fact you never know his true emotions if he grins or frowns at you, still keeping blank eyes. He's pretty much calm and laid back, but does have his crazy moments.
Jerboamon is also secondary main character and here is some personality info:
She's kind, but annoyed by the fact that digimon mistakes her for a virus type for her dull colors. If she thinks something, she often say it and stands for it. She comes from Great Canyon and became later a resident of File City, and later kicked out to Native Forest there she met Therzimon and Coatmon. She tried to steal a rare item from Therzimon, so she could sell it in File City to earn BITS (digimon currency). (later in the story they became friends) She is quick and can jump quite high because of her legs. She's also very adventurous and often happy around Therzimon and Coatmon.
You can draw one, two or all 3 of them. And you can also add my other digimon oc's to the picture, that can be found in this folder:
[link]
. You can also add your own oc digimon interacting with them if you want C:
Good luck! C:

Entries